Gasthof Gastagwirt ****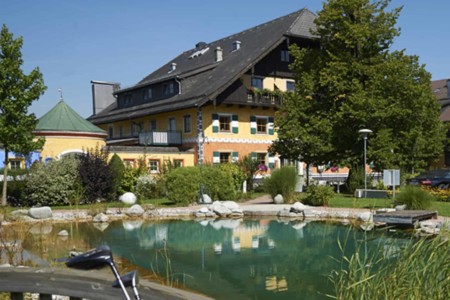 Alte Wiener Straße 37 5301 Eugendorf, Österreich
06225-8231
office@gastagwirt.at
http://www.gastagwirt.at/
Welcome to the Gastagwirt!
The family atmosphere of a traditional Salzburg estate, where authentic Salzburg hospitality has been carefully nurtured since 1380. Your hosts have a special way about them, seemingly always able to keep their guests as well as staff in the best of spirits. And couple that with all the beloved benefits of a four-star hotel: enjoy the Gastagwirt as your home-away-from-home for a successful golfing vacation in SalzburgerLand.
Superlative golfing experiences await you in the region surrounding the Gastagwirt. The ten select golf courses of the glorious Alpine Foothills, the nearby Salzkammergut and Bavaria are all within arm's reach! Neighboring Eugendorf golf club is an especially exciting prospect for golfers in search of extra challenges, while fans of beautiful panoramas are certain to find their own piece of heaven at the Römergolf club just 5 minutes away.
| | |
| --- | --- |
| Room with breakfast | € 73,00 - € 90,00 |
| Half-board upgrade | € 29,00 |
| Single occupancy surcharge | € 10,00 -€ 15,00 |
Hotel Packages
Gastagwirt's "Mozart-Spezial"
2 x nights in a ****Comfort room with bath/shower, TV and mini bar, along with free wireless Internet access
2 x lavish breakfast buffet offering everything from wholegrain and organic foods to ham & eggs
2 x delectable dinner menu with selection of main courses and, naturally, a big salad buffet
mineral water, cereal bar and fruit to take with you on your round
free use of our wellness facilities with indoor pool, outdoor swimming pond, along with our sauna facilities with bio sauna, steam bath, infrared cabin & Finnish sauna
free bike rental
1 x Mozartgolf Card with 660 "Green Points"
redeemable at all courses in the beautiful Mozartgolf region (i.e. one green fee each at the Eugendorf, Römergolf and Altentann courses)
Surcharge for single occupancy € 20,-
Preis pro Person im DZ ab
€ 410,-
Gastagwirt´s "hole in one"
7 x nights in a ****Comfort room with bath/shower, TV and mini bar, along with free wireless Internet access
7 x lavish breakfast buffet offering everything from wholegrain and organic foods to ham & eggs
6 x delectable dinner menu with selection of main courses and, naturally, a big salad buffet
mineral water, cereal bar and fruit to take with you on your round
free use of our wellness facilities with indoor pool, outdoor swimming pond, along with our sauna facilities with bio sauna, steam bath, infrared cabin & Finnish sauna
free bike rental
1 x Mozartgolf Card with 930"Green Points"
redeemable at all courses in the beautiful Mozartgolf region (i.e. one green fee each at the Eugendorf, Römergolf and Altentann)
Surcharge for single occupancy € 70,-
Price per person (double occupancy)
€ 930,-