Gasthof Gastagwirt ****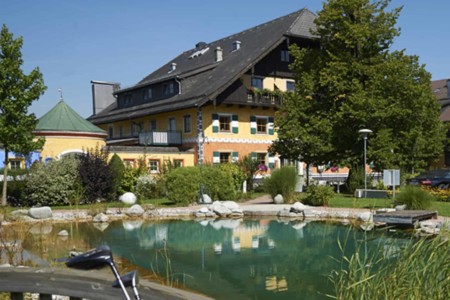 Alte Wiener Strasse 37 5301 Eugendorf, Austria
06225-8231
office@gastagwirt.at
http://www.gastagwirt.at/
Welcome to the Gastagwirt!
Our family-run inn welcomes you warmly. In the Gastagwirt, we combine centuries-old tradition with modern comfort and regional indulgence. Since 1380 we have been real Salzburg hospitality groomed. Our "Gutshof" has been family-owned for many years and combines traditional values ​​with the advantages of a modern four-star hotel. Enjoy the full advantages of our house and look forward to a successful golf holiday in the Salzburger Land.
From breakfast to dinner in our brand new Gutsherrenstube You can expect great pleasure with only the best from the region. We produce a lot ourselves in our own organic farm. What is not produced in-house, we get from regional producers, whereby we use the highest Quality & regionality respect, think highly of. Next Enjoyment & cuisine Pure relaxation awaits you in the Gastagwirt. Enjoy your time in the wellness area or in the cozy rooms.
When you're not relaxing or enjoying yourself, you are probably swinging your golf clubs. Up to 10 golf courses the great Mozartgolf region are in the immediate vicinity of the Gastagwirt. That makes the beginning Championship golf course Eugendorfwhich is within sight of our house. Demanding golfers and those who want to become one will feel completely at home there. The Golf club Römergolf is also only a 5-minute drive away!
See you soon at the Gastagwirt - the Maislinger family!
| | |
| --- | --- |
| Bed and breakfast | € 73,00 - € 90,00 |
| Half board surcharge | € 29,00 |
| Single supplement | € 10,00 - € 15,00 |
The prices are per person and night
Hotel packages
Gastagwirt's "Mozart Special"
2 nights in a **** comfort room with bath / shower, TV and minibar, air conditioning and free wireless internet access
2x generous breakfast buffet, which offers everything from the whole grain organic corner to ham & eggs
2x evening menu to enjoy with a choice of main course and of course with a large salad buffet
Mineral water, muesli bars and fruit to take away with you
Free use of our wellness facility with indoor pool and our sauna area with organic sauna, steam bath, infrared cabin and Finnish sauna
free bike rental
1x Mozart golf card with enough green fee points on it
Can be redeemed individually on all Mozartgolf courses (e.g. one green fee each for the GC Eugendorf, Römergolf and Altentann)
Single room surcharge € 20
Price per person in a double room from
€ 410, -
Gastagwirt's "hole in one"
7 x overnight stays in a **** comfort room with bath / shower, TV, air conditioning and minibar and free wireless internet access
7 x generous breakfast buffet, which offers everything from the whole grain organic corner to ham & eggs
6 x evening menu to enjoy with a choice of main course and of course with a large salad buffet
Mineral water, muesli bars and fruit to take away with you
Free use of our wellness facility with indoor pool and our sauna area with organic sauna, steam bath, infrared cabin and Finnish sauna
free bike rental
1 x Mozart golf card with sufficient green points
Can be redeemed individually on all courses in the beautiful Mozartgolf region (e.g. one green fee each for the GC Eugendorf, Römergolf, Altentann and Mondsee)
Single room surcharge € 70
Price per person in a double room from
€ 930, -