Golf club Römergolf-Eugendorf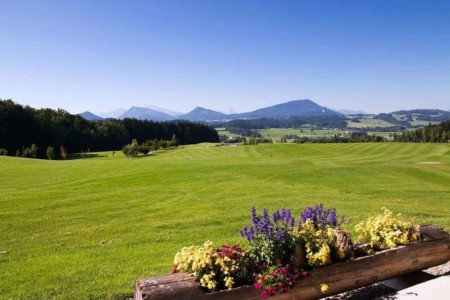 Kraimoosweg 5a 5301 Eugendorf, Austria
+43 (0) 6225 28300
info@roemergolf.at
http://www.roemergolf.at/
E-carts
Pets Allowed
de gustibus non est disputandum - there is no arguing about taste
Fitted into the conditions of the landscape, with all its hills, valleys and forests, the 27-hole course offers you a wonderful place for a game of golf with a natural experience.
18 holes challenge - the panorama course demands you in a very special way. Hilly disposition, he demands straight play and concentrated strokes. But it lives up to its name - you will be overwhelmed.
The 9-hole Kornbichl course is not only a pleasure for inexperienced golfers. And that all year round too! The 9 holes are open for twelve months on summer greens, because: cupiditas ignorat temporis anni - passion just knows no seasons.
| | | | | |
| --- | --- | --- | --- | --- |
| holes | 9 / 18 | | About | Hole |
| Length | Kornbichl course | 3.144m | 60 | 9 |
| Length | Panorama course | 4.765m | 69 | 18 |